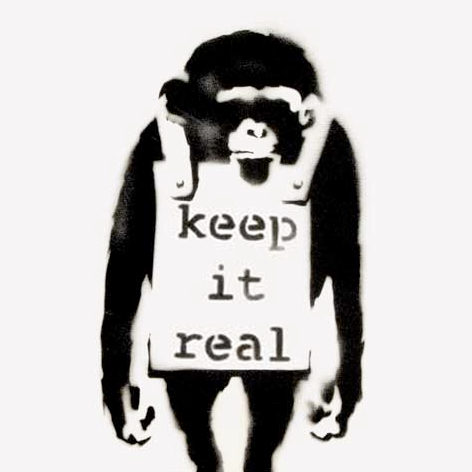 The other day, I had the urge to listen to some Kid 'n Play music. Don't ask me why, because for any hip-hopper there's no need for explanation. Honestly, it was just what I was feeling at the time. I was definitely in the mood for a House Party of some sort, so while at work I decided to play one of their hits. It instantly sparked a conversation that posed a very important question: "When did rap music transform from "Ain't Gonna Hurt Nobody" By Kid 'n Play to "Hit A Muthaf*cka" by Three 6 Mafia? I think the answer boils down to the most overused term in Hip-Hop: "Keeping It Real."
For all of those not familiar with the term, I'll try to define it the best that I can from my point of view. Like many hip-hop terms, it has an evolving definition that will more than likely need to be adjusted for the situation that it's used in. In other words, don't reduce yourself into believing (or even using) Urban Dictionary. Half of what you will find there will be either extremely vague or extremely racist.
The best way to define "keeping it real" would be in relation to time periods in hip-hop.
From 1979-1992
"Keeping It Real" during this period in hip-hop was about remaining true to the artform, its origins, and those who created it. It was excepting that no matter how popular and marketable hip-hop might get, there still needs to be a solid connection to the foundation of the culture. For example: a group like Public Enemy might have defined what was considered "real" just as much as DJ Jazzy Jeff & The Fresh Prince. The definition of "real" during this period had an emphasis more on the expression of the art instead of the subject matter. The Fresh Prince rapped about his parents not understanding him and being able to beat Mike Tyson in a fight just as passionate as Chuck D told us to fight the power and schooled us on racial self-destruction. They both had fantastic DJ's behind them. They both were big selling acts at the same time. They both went on tour together. They both "kept it real" in their time periods.
From 1992-2003
"Keeping It Real" during this period seemed to add on other variations to its definition. While the original definition still applies, there are other options that were presented in the early 90's. At some point, possibly triggered by more street oriented artists like The Notorious B.I.G. and The Wu-Tang, "keeping it real" became "keeping it really gutter". While some aspects felt slightly exaggerated, average fans considered music that focused on the plights of the ghetto "more real" than other acts with less serious content. Simultaneously the general hip-hop population transformed the definition. Not only did "keeping it that real" give you an unofficial stamp of approval with the rougher fans, but it sold like hot cakes (where exactly are hot cakes flying off of the shelf?). Like I said before though, some aspects felt slightly exaggerated. By slightly I mean greatly. In some artist's defense though, they were representing what was "real" about where they are from as opposed to what was real from their own lives. There were also artists that were involved in way too much actual "real" activity and lived to rap about it (at least for a while). 50 Cent got shot 9 times and based his whole debut album around it. To many people, he was "the realest" rapper ever. This resulted in a very large amount of sales for him and his associates. Obviously it wasn't the only factor contributing to his sales, but checking off the "real" box 9 times that early in his campaign definitely helped. This is where I think the real problem was born, because it became a gateway for the next phase of "keeping it real".
From 2003-Present
"Keeping It Real" went through its worse phase at this point. "Real" boasts became really bad. It moved up from reflections of home into completely made up fairy tales of Gangstaland, where drug deals are made by the ki (people always spell it k-e-y but that really doesn't make sense if it's short for kilo) and people are murdered at the drop of a dime bag. I truly realized it was out of control when on Rick Ross's debut single he proclaimed, "the real Noreaga owes [him] a hundred favors". While theatrics can be appreciated in the rap game, boasts like this are something on which he based the success of his entire career. Reality stretches have become a costume of all of the most successful rappers today. In the 90's Drake would never suggest that he'd "catch a body" given his background, but the climate of music has made this acceptable. A known correctional officer and a Canadian child star can top the charts by doing the opposite of what was considered "keeping it real" during the most important era in Hip-Hop Culture. This is not to say that they aren't talented artists. I've enjoyed both of their musical offerings thus far, but these boasts ushered in other acts that have gone even farther. Without Ricky Rozay claiming to be "Rich Off Cocaine" and seemingly confessing to hundreds of murders with each successful album, then there wouldn't be a Chief Keef. His love of Sosa and his knack for listing everything he "don't like" feels like a direct result of the music that Rick Ross has made popular in the past 6 years. The only thing that I feel is missing is actual lyrical talent. I can say that in these past 6 years, Rick Ross' actual rhyming ability has improved which made some of his boasts a bit more acceptable. On the other hand, all Chief Keef has are his boasts and beats with popular appeal.
I fear that straying so far away from what Hip-Hop used to be will stop us from being able to reach back to its essence for the refreshers that the game always ends up needing. Sonically going away is acceptable to me (far more than some of my friends) as long as some basic elements persist. Morally going away is the trip that I fear we're taking. When "keeping it real" moves from actuality, to a reflection, and then ultimately to a fallacy, it speaks on the direction of our entire culture. Maybe that is why I've been in the mood for "Ain't Gonna Hurt Nobody". At the end of the day, it still has a "more real" message and is more accurate than what we've been offered in the past decade. Deep down, even these artists' most dedicated fans know that they're just entertainers that ain't gonna hurt nobody either.
Which "real" do you want to keep it?